Coin Jump
Description
The main character, Qial, wants to get as rich as possible so he is going to try to infiltrate the different areas that protect the coins.

The coins may seem simple to the player but on the planet Qial hails from, they are invaluable.
Help Qial to get all the coins possible and thus fulfill his ambition.
Controls
In the game, you can move the character with this keys:
O: Move Left
P: Move Right
Q: Jump
You can also use a joystick .
Joy_Left/Left_Joy_Left: Move Left
Joy_Right/Left_Joy_Right: Move Right
Joy_Fire_1/A_Button: Jump
Gesture
The game includes a gesture to Lárcenas Legacy.
In Lárcenas Legacy, Lárcenas has to do some illegal things in order to get rich and in Coin Jump, Qial has to collect the coins for that same purpose.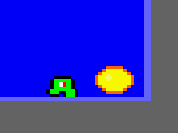 Extras
If you want to do a level you can send a image to our Twitter, it's all explained here
Thanks

We want to thank and mention all those who has send us their levels.
Install instructions

For those who do not have an Amstrad you can download WinApe from this URL: http://www.winape.net/download/WinAPE20B2.zip
Once downloaded, unzip it and run WinApe.exe. Once it has been opened press F5 and select the .sna

Para aquellos que no dispongan de un Amstrad podeis descargaros WinApe desde esta dirección: http://www.winape.net/download/WinAPE20B2.zip
Una vez descargado lo desconprimiis y ejecutais WinApe.exe. Una vez se haya abierto pulsais F5 y seleccionais el .sna
Comments
Log in with itch.io to leave a comment.
Es adictivo, necesito más niveles, enhorabuena
Parece muy chulo. Enhorabuena